JOIN THE e-STREAM OF THE MTRIZ-STUDENTS FROM 25+ COUNTRIES OF THE WORLD!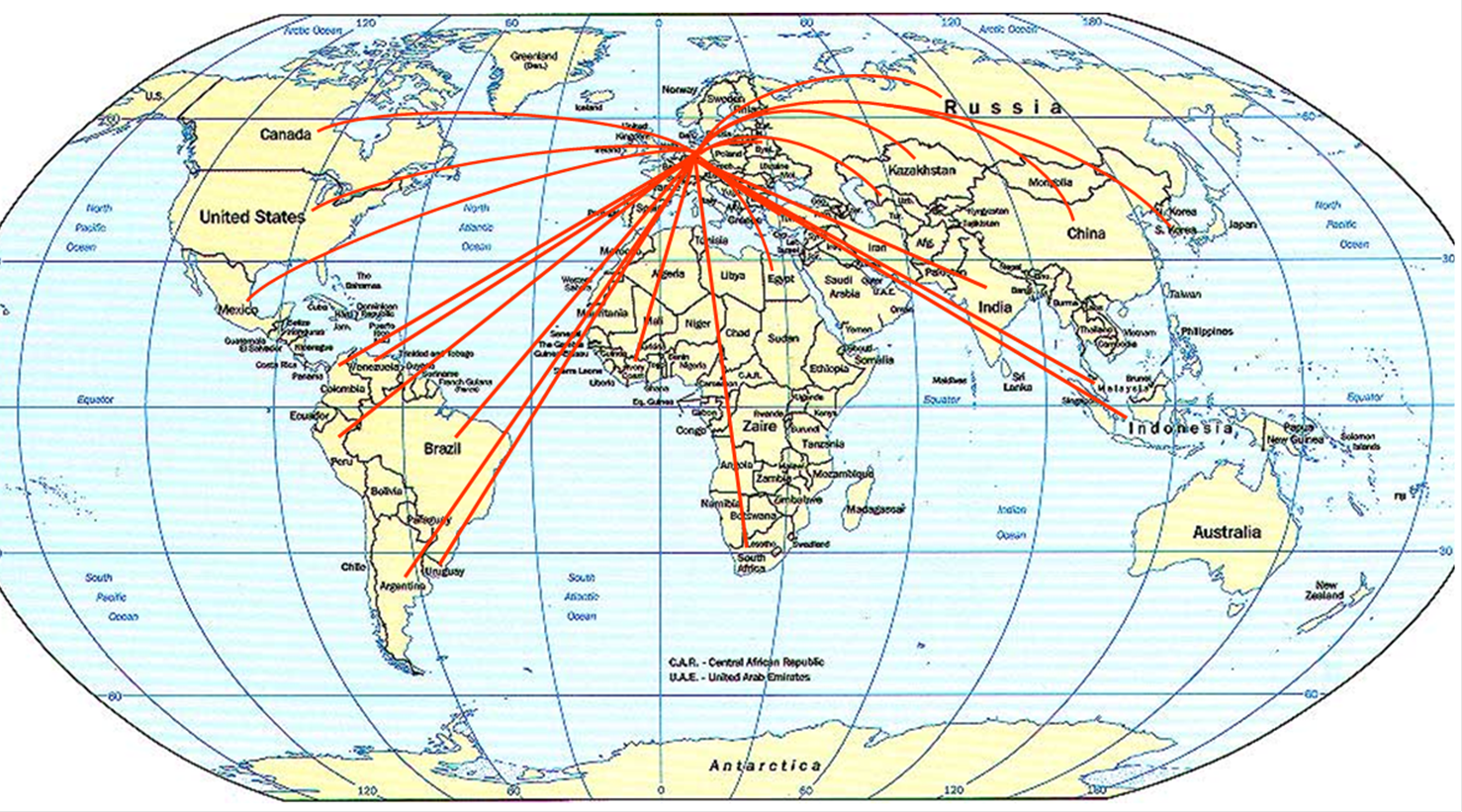 The world map is gratefully reproduced from the site: http://www.chinatourmap.com/maps/world_map.html
Global Production Engineering




Prof. Orloff has provided his blend (classes + e-learning) course "Global Sustainable Innovention with Modern TRIZ" for the students of GPE` Master of Science Program at TU Berlin on the fundamental platform of exploiting the cognitive cycle as accumulation of innovention knowledge (expertise) with MTRIZ-methods "Extracting" and "Reinventing", and after that using this expertise for new "Inventing-and-Applying".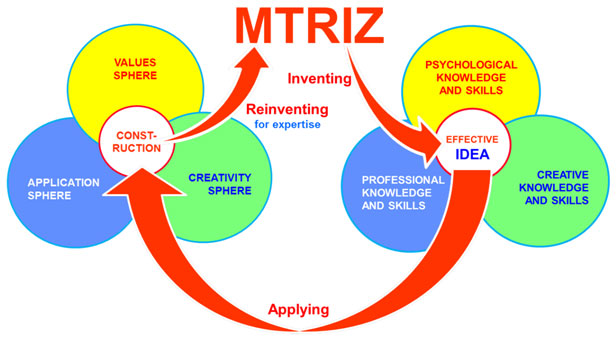 We have studied very simple things to extract from them the valuable innovention expertise. We can mine from these artifacts new inventive knowledge "How was it invented"?
After getting the new inventive knowledge and practical (!) skills in analysis and synthesis of inventive solutions, we are able to apply it in new "mining" in our professional area and to participate in improvement of any system that is in our competence.
The students interested and motivated to get MTRIZ knowledge and skills select course "Global Sustainable Innovention with Modern TRIZ" to study it and to practise it in class and during working for Master of Science thesis.
Prerak CONTRACTOR (India)
Modern TRIZ is absolutely irreplaceable for both
engineers and managers!
We will introduce MTRIZ e-learning in India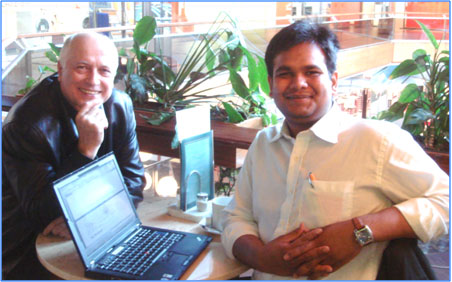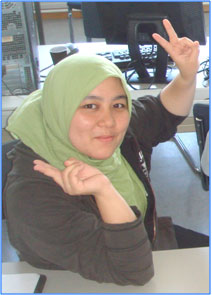 Khairul KAMARUDIN (Malaysia), PhD, MSc :
Great MTRIZ classes and e-courses!
Interesting ecological applications are
possible, and also for green technologies.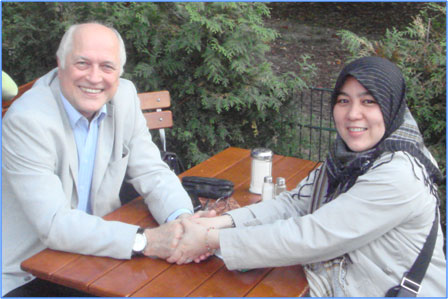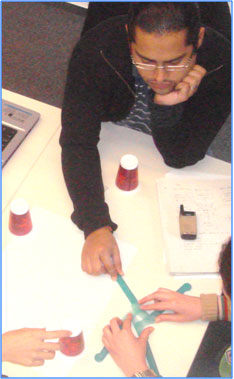 Eduardo ROCHA (Mexico):
This is invaluable MTRIZ-
knowledge that I would like to
bring not only in my engineering
specialty, but also in every
university and even in every
school.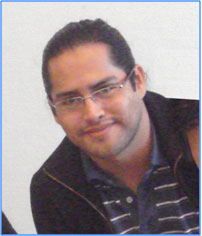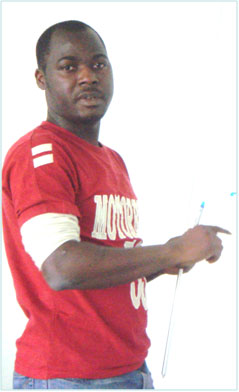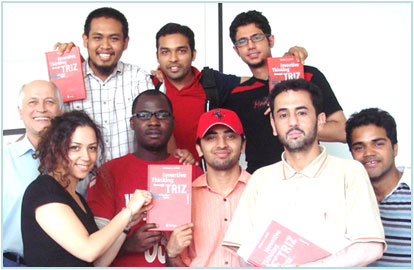 Adehi GUEHIKA (Cote d`Ivoire - Canada):
I think that Modern TRIZ will become my
second or maybe first occupation.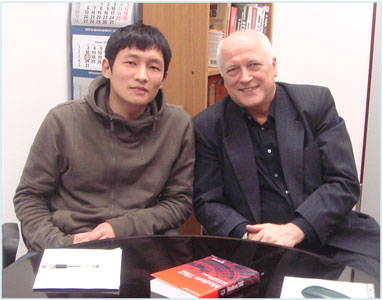 Zhao YANG (China), MSc:
I am deeply convinced that Modern
TRIZ should be intensively
disseminated in China.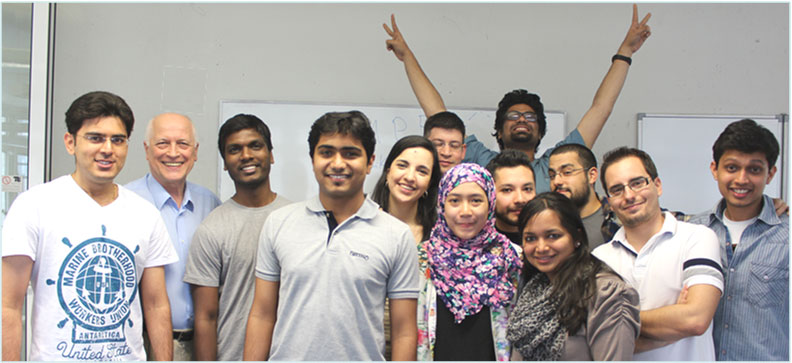 The students of MTRIZ course 2013 in MSc program in GPE, IWF, TU Berlin

The students of MTRIZ course 2014 in MSc program in GPE, IWF, TU Berlin
Students can make Master of Science thesis in direction of "Global Sustainable Innovention with Modern TRIZ" to investigate and "dig out" the creative experience from artifacts that are interesting for the students in connection with their professional perspectives.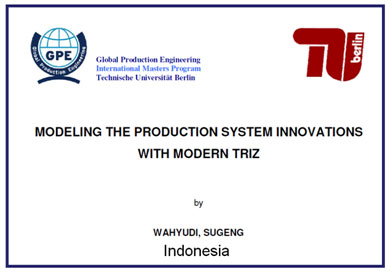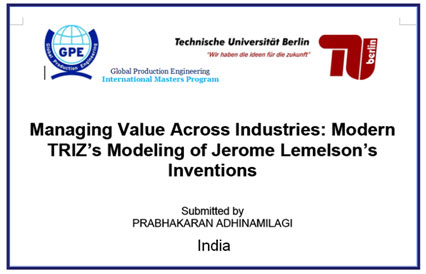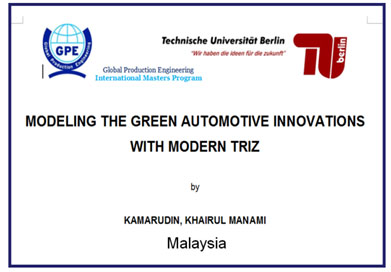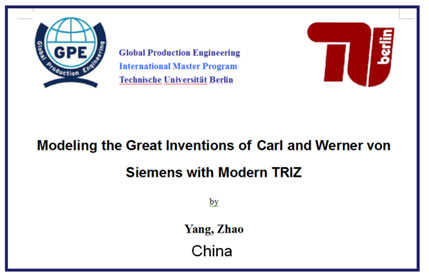 So, in his master thesis, Sugeng Wahyudi has studied an evolution of managerial innovations in automobile industry from the very beginning till nowadays over a period of its entire history.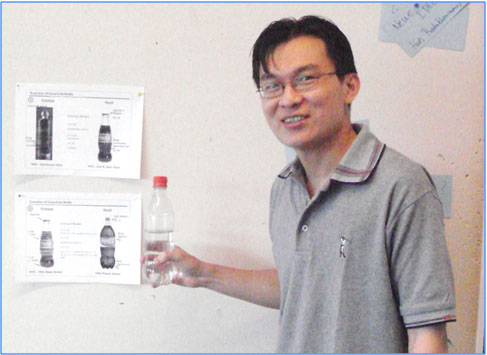 A big part, based on Sugeng`s master thesis, has been
included in monograph by Prof. Orloff "Modern TRIZ. A
Practical Course with EASyTRIZ Technology".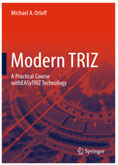 Student Sugeng Wahyudi, MSc, Indonesia (now in
Singapore), was recognized in 2012 as the best
graduate of GPE Program in its history from 1998
UNESCO Project "Learning For Life""



Prof. Orloff has provided e-learning course "Micro-TRIZ" on the base of EASyTRIZ Junior program for the schools, colleges and universities.
One of the most interesting projects has been realized for the UNESCO Institute of Information Technologies in Education as a part of project "Learning For Life"".
Wonderful results have been gotten by pupils and teachers from Kazakhstan, Azerbaijan and Kirgizstan who have gained an informal championship among 23 teams from 21 schools of 11 countries.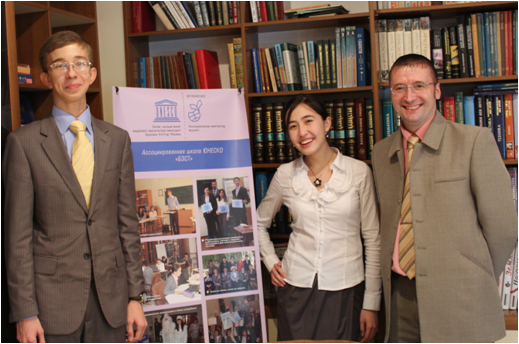 FIRST TEAM PLACE
School BEST,
Almaty,
Kazakhstan


First place among students -
Nikita Panchenko, class 11 (left)
Second place among students -
Assel Alkhanova, class 10


The overall winner of unofficial championship
among teachers and students -
Alexander Kostikov, teacher (right)

Alexander Kostikov:
At first it was hard to get to the core ideas of the project, but after several days of reflection and study of the material, thinking began to work quite differently. Daily routine vanity of people and their reluctance to open something new for themselves conceal the actual ability of the human mind. Modern TRIZ helps to look at the problem "both technical or social" from the other side.
We believe that this course is very useful for all students and teachers. The first thing to try to participate, and you do not notice how this technique will be passionate about modeling.
Nikita Panchenko:
TRIZ rebuilds thinking! Now, looking at the items, various "navigators" immediately pop up in the head and form assumption how the existing invention was emerged, which "navigators" served at its creation.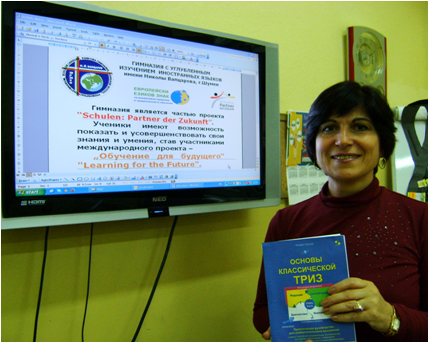 Second medalist in unofficial championship
among teachers -
Paulina Desewa, teacher,
Foreign Language High School after Nikola Vaptsarov,
Shumen,
Bulgaria
Paulina Desewa:

... I myself was looking for material on the internet and realized that it is possible to teach creative thinking, and that it will be not only boost during brainstorming. Interest in TRIZ have been provoked at me and, as saying, "When the student is ready, the teacher appears ." Professor M. Orloff became just such a teacher for me.
After his course I think that Modern TRIZ should be studied in secondary schools, at least for elective classes, because the theory tells how to use the human innovative experience to learn, how to analyze and solve contradictions, seeking Ideal Final Result.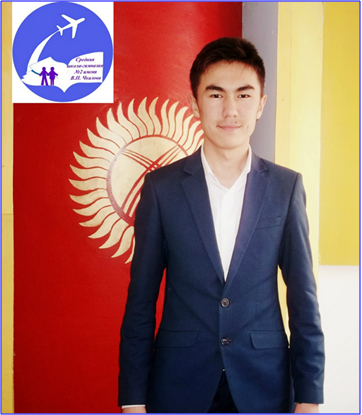 Second medalist in unofficial championship
among pupils -
Tilek Nurlanov, class 9,
school No. 2 after V.P. Chkalov,
Naryn,
Kyrgyzstan.

Tilek Nurlanov:
And big tip: get a grasp well in tasks! The main thing to
understand what is required of you and what you do!
Third medalist in unofficial championship
among pupils -

Vadim Balysh, class 11 (left),

project participant Alexey Volk, class 11 (right),

College of Smorgon,
Belarus

Vadim Balysh:
Before the MTRIZ-course I knew what would encounter something new for me in inventive activity.
But I did not expect that the Meta-Algorithm of Invention presented in the course, will be so effective: it can be used to solve any problems, whether technical, economic, artistic or literary "conflicts".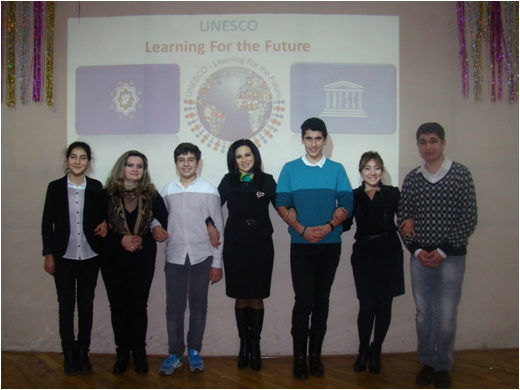 Third medalist in unofficial championship
among teachers -

Ilham Hajiyeva, teacher (second from left)
Kamala Jafarzadeh, teacher (second from right)

Baku European Lyceum,
Baku,
Azerbaijan

Second and third prize winners in the unofficial team championship:
Sabina Shihalizadeh, class 11, 4th place,
Isa Sadyhov, class 10, 4th place,
Raya Aliyarzadeh - Deputy Director of Information Technology at Baku European Lyceum (in the center),
Timur Mekhtizadeh, class 11, 5th place,
Jamil Muradov, class 11, 5th place
Ilham Hajiyeva:

Prior to the course I knew when and who created the theory of TRIZ, knewTRIZ elements, knew that there was still TRIZ pedagogy, and I
always wanted to explore deeper into this theory and use it in my practice.
I believe that the course is useful and already recommend this course to my disciples, I advise them to purchase books on Modern TRIZ .
I will personally apply their knowledge in pedagogy, introduce new teaching methods. And I will arrange my lesson more productive and more
interesting with MTRIZ modeling!
I am very satisfied with both content and e-course.
Excellent program with a friendly interface, accessible and very interesting course.

Kamala Jafarzadeh:
Before exploring MTRIZ e-course, I could not imagine how inventive problems can be solved exactly, clearly and consistently!
At first everything seemed hazy and difficult. Sometimes I thought, if I can solve it? But the examples were very interesting and nice
presented. They helped me a lot!
I consider that this course was useful for me because I have become to think more accurately and deeply about the situation or problem.
Here is a systematic approach to invention. And that, strange as it may sound, "educates" a person with special way!
With a great desire I would advise this course to my colleagues and help them, direct them.
I want to give you an example, I think that it is correct. On fine art lesson I gave second graders task to solve the following problem:
what to do with color blob, which accidentally fell down from the brush on the blank sheet of paper? Usually in this situation the
child have got panic! How much speculations were generated! After that I told them a story about how a girl turned inkblot into animal
(you can transform it even into a bird, plant, object, etc.) according to the models of TRIZ "Transform damage into use" and "Inverse
action"!
And yet it was so exciting to work!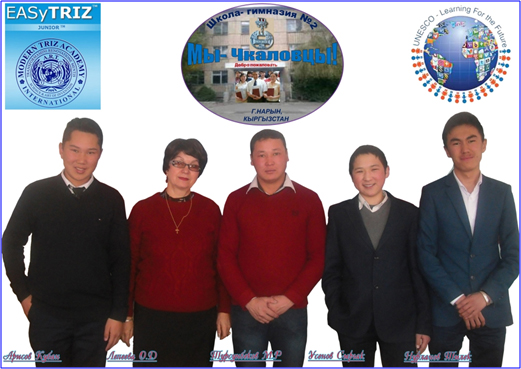 Third prize winner in the unofficial team
championship:

school No. 2 after V.P. Chkalov,
Naryn,
Kyrgyzstan.

Cuban Arisov, class 9, 5th place,
Olga Lepeeva, teacher, 4th place,
Maksat Tursunbekov, teacher, 5th place,
Syrgak Ussenov, class 9, 5th place,
Tilek Nurlanov, class 9, 3rd place

Olga Lepeeva:
1. Dear Professor, you rocked us with unexpected news! It is unexpected because we despaired that we did not meet the deadline, and that the errors may occur again and again... We had made aware of it is happened with your support, but God knows, we tried as best we could and are genuinely pleased and grateful to you and to the Project for this miracle!
We understood a lot and learned a lot: self-discipline and the desire to win, patience and admitting our mistakes, to continuous mental activity, seeking a solution to change at the breaks, and we have been come to the Information Centre every day after school, and we have turned into a real team of intelligent guys! Thank you and your assistants for your cooperation, patience and results!
2. The course is unusual and quite complicated, but amazingly fun and exciting. Initially the unfamiliar terminology frightened me, it seemed that nothing will be happened, because I'm majoring in the humanities, and it was necessary to think a little different categories.
Now I am convinced that the course is very useful and very necessary for "brain investment" into a complex, but very developmental process of thinking.
The very understanding his involvement in invention is very stimulating for cognitive and creative activity of the participant.
Many wonderful references have been sent after a completion of the LFF MTRIZ-project:
http://lff.iite.unesco.org/Data/Sites/1/userfiles/results_mtriz-/4-2014.01.21-references-of-first-winners.pdf
Global Project "Rail Sky Way" by Dr. Yunitskiy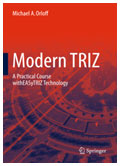 There is something more powerful than all the armies
in the world: it is an idea whose time has come.
Victor Hugo
What can be more familiar and even boring than a rail, or a steel wheel of a railway car rolling along that rail? Well, maybe a motorcar wheel rolling along a concrete highway or a battered dusty country road.
And now let us consider the five (according to the author) wheel revolutions in the history of the human civilization:
1st Revolution (6,000 years ago, Sumerian state in Mesopotamia): invention of the wheel as such – first made of wood;
2nd Revolution (5,000 years ago, Egypt; 4,000 years ago, Europe): invention of the pair "wheel – manmade road" (road made of wood, stone, etc.);
3rd Revolution (500 years ago, ore mines in England, Ireland, Russia): invention of the pair "cast-iron wheel – cast-iron rail";
4th Revolution (160 years ago, Robert Thomson): invention of the pair "pneumatic wheel – road" (dirt road, stone road, concrete road, etc.);
5th Revolution (30 years ago – late 1970-es, Anatoly Yunitskiy): invention of the pair "steel wheel – steel string rail".
To be more exact, Anatoly Yunitskiy
INVENTED A COMPLETELY NEW… TYPE OF ROAD !!!
Manmade road of a new type using cast-iron rails did not have a prototype in Nature! Anatoly Yunitskiy's string rail has prototypes both in technology and in Nature – for example, cables or spider web threads – but it is not identical to them, as its structure and properties are wonderful and truly revolutionary!
Some people may say: "Well, it's not like you've invented a bicycle or a wheel! What's so special, so unbelievable about it?
Example. Automotive Civilization and What will be further!
Let us consider the key contradictions (fig. 1) inherent in the pair "wheel – road".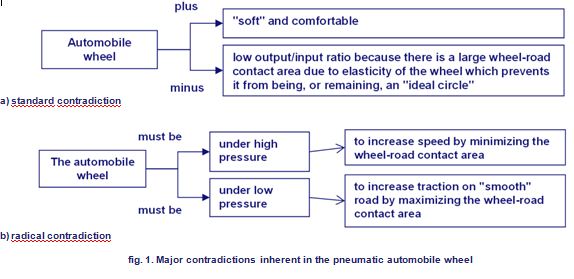 Because of the road profile and the ensuing low efficiency of the pair "wheel - road" it is impossible to universally support movement even at speeds ranging from 150 to 200 km/h.

fig. 2. NO WORD MORE !
The motor vehicle is the worst environmental pollutant and
THE WORST "LEGITIMATE" MURDERER
killing 1,500,000 people and
maiming about 5,000,000 people throughout the world
EVERY YEAR!
Who, when & how will stop it ?
If you are taking an autobahn from Berlin to Munich, you will move at an average speed of 120 km/h even if traffic conditions are favorable (i.e. there are no traffic jams, construction works, detours, etc.)! That is progress for you! And it is a tall task to get from Berlin to Munich in 7 hours – it all depends on traffic jams, road repairs and construction works!
Conclusions:
1. Motor vehicles must not be used for mass-scale transportation of people and cargoes for distances exceeding several hundred kilometers!
2. In the future, the rules governing city traffic, as well as conditions and scale of parking in cities, must be radically changed!
And now let us consider the radical problem affecting the railroad pair "steel wheel – steel rail" (fig. 3).

fig. 3. Radical contradiction inherent in the "steel rail"

The existence of a sag, however small, means that the railroad wheel is rolling along a road which is not "ideally" straight, that it is constantly trying to get out of a depression – the sagging rail! And that goes for several dozens or hundreds of wheels in each train! Clearly, the need to overcome ongoing resistance results in huge overconsump­tion of energy! Monstrous waste of energy! In other words, the pair "steel wheel – steel rail" also has a very low output/input ratio!
Accordingly, the maximum speed that can be achieved by trains without creating potentially lethal complications is limited by 200-300 km/h. And the situation is further exacerbated by immense railway construction costs!
And now I will tell you about one surprisingly simple invention which is unbelievably efficient! This is the new planetary transport of the future!
The essence of this invention authored by Anatoly Yunitskiy is the completely new rail construction (fig. 4).

fig. 4. String rail construction

Pursuant to the TRIZ model that we know as "Matryoshka" (named after the famous Russian nested doll), the new rail is made of dozens and hundreds of wires. Each such wire is tight as a string, and all of them together make one powerful string which is completely straight!
In fig. 5 you can see the relative "sag" radii of motorway surface (Ram = 1, used as the base unit), high-speed railroad rail (Rrr = 3), and Yunitskiy string rail (Rsr = 10).

fig. 5. Rigidity and straightness of Yunitskiy road is 10 times better
than those of motorway road surface,
and 3 times better than those of a high-speed railway rail

The second dominant TRIZ model which is de facto realized here is "Transition into another dimension" – in all senses of the word! Technically, this means that the entire transportation structure is raised above ground (fig. 6) to a certain height in order to minimize up and down sloping, and to assure that the road is completely straight for dozens and hundreds of kilometers and that flight in an unibus while contemplating the beauty of Nature gives pleasure to each and every passenger!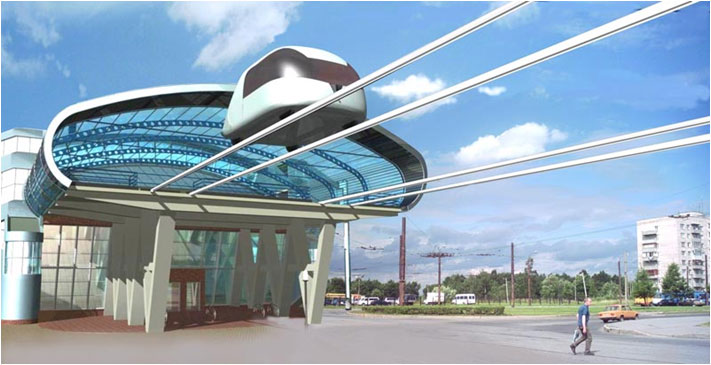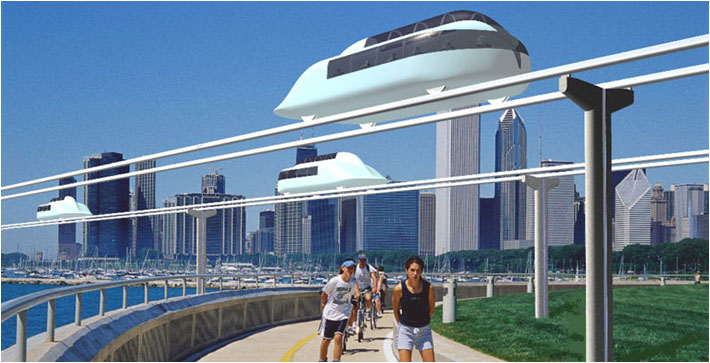 fig. 6. Examples from engineering projects designed by Anatoly Yunitskiy

Indeed, land that can be used by surface transport, particularly in cities, is becoming more and more scarce.
And this means that further development – historically evolutional! – is possible only if we move up, make use of the "height" coordinate by raising the transportation infrastructure above the land surface. And while we are at it, we might just as well "correct" its "defects", the so-called "topographic inequalities" causing the roughness of terrain.
Still, the secret of this invention lies in the physical-technical properties of the string! These properties are completely different from the properties of a beam resting on its ends. All other things being equal, the beam sags much more!
As a result, the maximum (optimal) speed
that can be achieved by Yunitskiy transportation modules (unibuses)
without complications is
200–500 km/h.
ATTENTION!
The string is an "intelligent" system which is capable of self-restoration and is exclusively – to the maximum extent possible! – straight and even along the way.
That is why Yunitskiy's invention is the last revolution in the development of the pair "wheel – rail": it cannot be surpassed or improved, except in terms of efficiency of materials used for its construction! But NOT in terms of its operating principle!
DIRECT ADVANTAGES!
Also, like any other powerful invention, String Transport of Yunitskiy (STU) creates extraordinary super-effects:
❆ energy (fuel) consumption is 20 times less compared to motor vehicles!
❆ energy consumption is 4 times less compared to railway transport!
❆ STU construction costs are 20-30 times less compared to those of a motor highway of comparable length!
❆ STU construction costs are 10-15 times less compared to those of a railroad of comparable length!
❆passenger and cargo transportation costs are 10+ times less!
And last but not least, STU has certain systemic properties that are extremely promising.
There is a well-known saying: states grew around roads.
STU can link locations within any country by high-speed, comfortable, safe and reliable means of transportation. STU can link countries and continents, for example, Europe and Japan, China and South-East Asia, Africa, the Americas, even Europe and America, etc. Accordingly, STU can become a planetary transportation system.
There is no end to what I can tell you about STU. But its construction has not started yet. STU is still waiting for investors and statesmen who can think globally and historically, and who are capable of exerting strong political will.
And to crown it all – a little "back-to-the-future" turn: let us talk about new old values associated with living on this planet.
Throughout the last century, countries rapidly (like the notorious "pebble leather") coalesced around cities, gigantic metropolises inhabited by millions of people! For many, "nature-less" existence turned into chasing material well-being, while morality and dignity began to shrink like the magic talisman made of "pebble leather" and presented by an old storekeeper to the protagonist of the famous novel by Honoré de Balzac.
Urbanization – what a terrible word! Man has retreated from Nature. This is one of the reasons why man has lost the emotional skills to perceive and appreciate Nature.
STU makes the impossible possible: it enables a mass-scale reverse migration from the cities to the Nature! Migration to wonderful living and working conditions created by a new strategy and a new conceptual approach to organizing new settlements in the most picturesque locations in any country, in any spot on the planet! Because STU makes distances irrelevant.
People will no longer be wasting their lives in metropolises, if given the chance to live far (by modern standards) from large cities, but still be able to get there in a matter of minutes, not hours, without getting stuck in traffic jams, without suffering nervous breakdowns, without destroying Nature.
The new systemic conceptual framework envisaging establishment of "line" settlements along streamlined STU networks is illustrated by fig. 7. Ability to use clean transportation infrastructure and noiselessly moving unibus trains will make it possible to build compact cities, existing in harmony with their natural environment, along STU lines and within walking distance from them.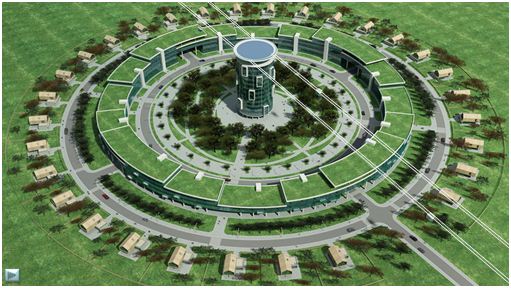 fig. 7. Starting point of systemic growth of a new civilization
These will be the growth points of a rationally organized society. It will also be very profitable, because eventually the possibility to live in normal natural and social conditions will be valued higher than possession of any thing, however precious and prestigious. Gradually, there will emerge a new civilization living in unity, rather than in confrontation, with Nature.
And now about the hard lot of pioneers and discoverers.
"A new worthy purpose¹ is usually so much ahead of its time that people frequently perceive it as heresy. Life in creation does not start with laurel wreaths. You have to learn to fight, to make war. Creative personalities do not turn away from the worthy creation roads they have chosen. They cannot do it because of their sense of duty. Zander² called it duty before mankind."
¹ Based on: G. S. Altshuller, I. M. Vertkin (1994) How to Become a Genius. – Minsk, Belarus
² Friedrich Zander (Fridrikh Arturovich Tsander) (1887-1933) – Russian scientist and inventor, one of the rocketry pioneers who published
his first work on future space flights in 1908 (when he was only 21 years old!). His personal motto was: "Onward, to Mars!"
For the last 30 years, Anatoly Yunitskiy has been doing his duty before mankind, and not only does he dream of seeing his transportation system in action, but he also does everything he can to make it happen. And still … people are not willing or able to understand – heretic!
Perception of pioneers by politicians, officials and even investors has not changed over the entire history of civilization.
It is known that it is easier to look for treasure under a lamppost where it is light, rather than in the dark and impassable forest. A little more than 100 years ago, when the first cars had already begun to move along the streets, the Greater London Municipal Council gave credence to conclusions drawn by a special investigation committee in a report on the prospects of development of the city's transportation system: In 100 years (i.e. today – A.Y. and M.O.) London will have 2 million residents and 4 million horses; there will be more stables than residential houses; all adjacent lands will be used to grow grass and oats, but there will still be not enough land and fodder for horses; and in some places horse manure will be lying in heaps half a meter thick.
Current projections for the next 50-100 years are very much alike if we replace certain terms in the above analysis as follows: horse with motor car, stable with garage, oat with gasoline, land with asphalt, and manure with exhaust gases. Both then and now specialists and experts make the same mistake - 110 years ago nobody was ready to take seriously the first simple and non-presentable automobile which changed the world in the 20th century; now nobody is ready to take notice of the first simple and non-presentable STU concept built in the settlement not so far from Moscow in 2001, a device which will change the world even more drastically in the 21st century, making it a safer, more ecological and more comfortable place to live.
We believe that time to build String Transport of Yunitskiy has come!